The English language, as massacred by our friends in Japanese marketing.......
(thanks to Andy for the toothbrush with refreshing wind!)
My brother and I have been endlessly amused by the following instructional gem from the booklet that came with our radio control aeroplane:
"if should broken, never give up!"
These washing instructions (?) came with a colleague's shirt from China.
He is currently fortifying against the threat of Wolgel.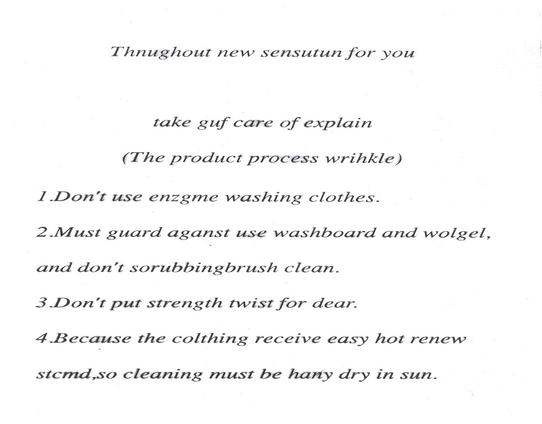 The following are from www.engrish.com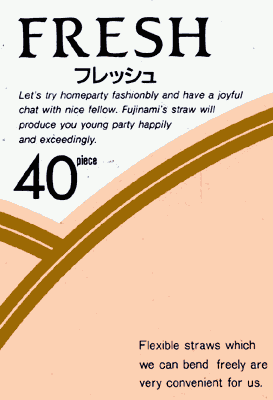 ........I'm sure they are, but let's hope we never find out why.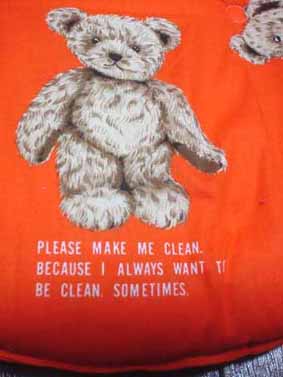 Sometimes I often feel that way myself. Always.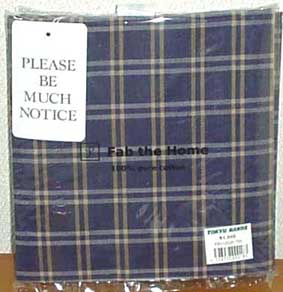 Prize Japalese sightings:

-------------

From the manual to somebody's motorcycle...

"HORN-BUTTON: tootle horn melodiously at the dog who shall sport in roadway. If he continue, tootle him with vigor."

-------------

[ personal favourite! ]

.......a pair of little girl's panties, decorated with a cute panda bear, birds, flowers and the words:

NOBODY KNOWS WHERE IT IS
THAT'S A DARK AND LONELY PLACE

------------

Postcard:
"As I wash hair, a feeling improves very much.
Let's watch for it, as a bubble doesn't enter an eye, however."

-----------

On a sweatshirt:

National League Stadium Public Spirits!
Try Zone -- Fight Spirits
Powerful Silent change Mind!
Adventure
The expert area contrast special project team.
New Generation Sensation Member.





For more stuff, take the Engrish link.